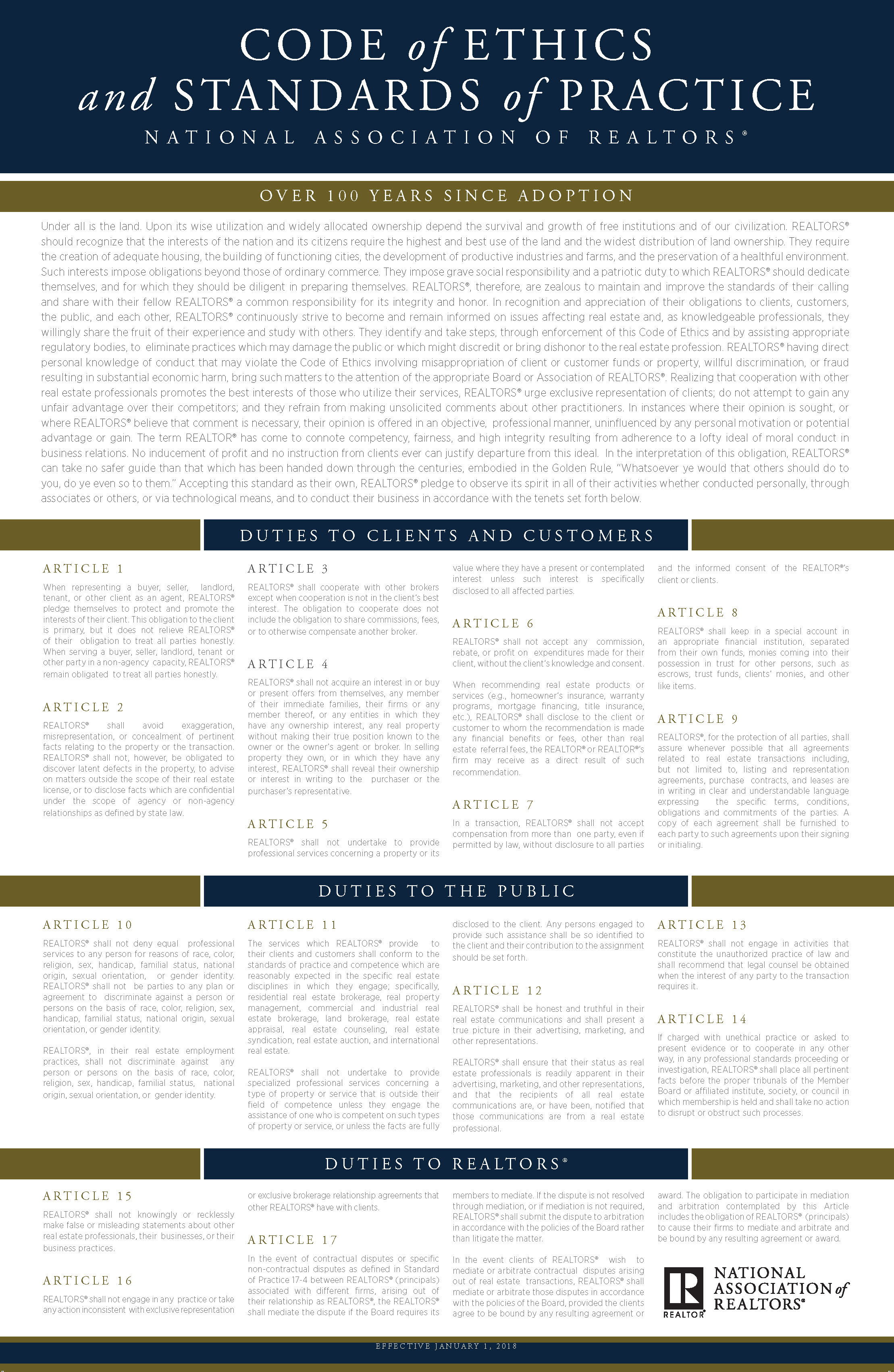 By Geoff Ramsey, CRS, GRI
President, Greater Chattanooga REALTORS®
Working with a Realtor® gives buyers, sellers, and investors many advantages they need to succeed in today's real estate market. One of those advantages is the assurance that Realtors subscribe to a strict Code of Ethics which provides clients with the highest degree of professionalism, ethics, and service. Adopted by the National Association of Realtors® (NAR) in 1913, NAR was only the second trade or business group in the U.S. to adopt mandatory ethical standards for its members.
Not all real estate licensees are Realtors. Only those who are a member of NAR can use the term "Realtor®" and subscribe to the Code of Ethics as a condition of NAR membership. Realtors are the most trusted resource for real estate information and have access to advanced educational opportunities and training in real estate specialties, bringing value to buyers, sellers and investors.
The Code is a comprehensive document spelling out professional responsibilities owed to clients, other Realtors, and the general public. All Realtors must take comprehensive training on NAR's Code of Ethics at least once every two years to retain their membership with the current 2-year cycle ending December 31, 2018.
Real estate is a business based on trust and working ethically is a way to build trustworthy relationships. Buying and selling property is a major, life-altering decision, and buyers and sellers need to be able to depend on their Realtor to guide them through the process with their best interests in mind. The Code helps provide an added layer of security to help Realtors do just that.
Consisting of 17 articles organized into duties to clients and customers, the public and Realtors, the Code outlines numerous professional responsibilities. For instance, Realtors must be honest with all parties in the real estate transaction, including their client, other Realtors, or real estate agents and their clients. Realtors should also be forthcoming with all parties by disclosing all pertinent facts regarding the property and the transaction. If something seems questionable about a property, the Realtor is obligated to investigate and make recommendations that buyers consult their own expert and inspectors. In addition, Realtors must be truthful in advertising and communications with the public. When distributing newsletters, creating websites, or placing advertisements, Realtors must represent only their work and not take credit for the work of another real estate professional.
Consumers can read more about the Code of Ethics and can find a summary of the Code that explains how it benefits them at www.nar.realtor/codeofethics.
If you're a Realtor and needing to take a Code of Ethics class or check to see if you still need to take the class, visit www.gcar.net to register for a class or email info@gcar.net.
Greater Chattanooga Realtors® is The Voice for Real Estate in Greater Chattanooga. A regional organization with more than 2,000 members, Greater Chattanooga Realtors is one of some 1,300 local boards and associations of Realtors® nationwide that comprise the National Association of Realtors®. Greater Chattanooga Realtors service Hamilton and Sequatchie counties in southeast Tennessee, and Catoosa, Dade, and Walker counties in northwest Georgia. For more information, visit www.gcar.net or call 423.698.8001.
---
For media inquiries, including a request to receive the monthly sales report and press releases, please contact:
Ashley Honeycutt
Communications Director
ashley@gcar.net
423.702.7432