All Day Event
Realtor Day on the Hill
Tennessee Realtors
LOCATION
Cordell Hull State Office Building, downtown Nashville: 425 5th Ave N, Nashville, TN 37243
DESCRIPTION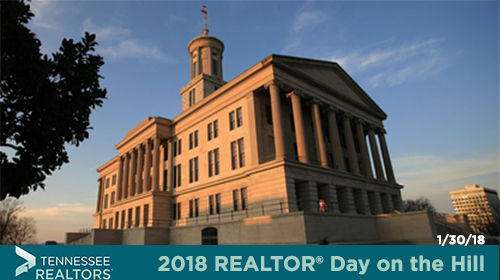 Join us for 2018 REALTOR® Day on the Hill!
Don't miss this opportunity to meet with your state senators and representatives, to discuss issues vital to property owners and the real estate industry in your community, and to influence the legislative process in the Tennessee General Assembly. Please sign up by completing THIS FORM by Monday, January 22.
We have reserved a bus to take members to Nashville for the day. However, seating is limited so please RSVP if you plan to travel on the bus. Also, please keep in mind this will be an all-day event, so the bus will be leaving early Tuesday morning for Nashville and arriving back in Chattanooga late that afternoon.
The bus will be leaving the office at 6:30 am EST to travel to Nashville. We will hear from Lt. Gov. Randy McNally & Speaker Pro Tempore Curtis Johnson before heading off to speak to our state representatives & senators. The bus will then pick everyone up to head back to Chattanooga around 2:00 pm CST and arrive back in Chattanooga around 5:30 pm.
To reserve your spot or for more details, email christy@gcar.net or call 423.702.7428
Register
Back to Calendar