Member Services
The Greater Chattanooga Association of REALTORS® services Hamilton and Sequatchie counties in southeast Tennessee and Catoosa, Dade and Walker counties in northwest Georgia. In keeping with our core objectives, we provide numerous services related to property and homes in the Chattanooga area, including the following:
Advocacy: At the local, state and national levels, REALTORS® advocate on behalf of consumers to protect and promote private property rights. Advocacy efforts include making voluntary contributions the REALTORS® Political Action Committee and meeting regularly with elected officials.
Best Practices: You can share these advisories with your clients and customers, as they come to you with questions about professionalism, multiple offers and other trends they encounter in the Greater Chattanooga market.
Committee Appointments: Appointed and elected volunteer leaders guide the current and future Association initiatives. The committee sign-up is made available to all membersin the 4th Quarter, with appointments confirmed by the end of the year for terms beginning January 1 of the following year.
Communications: Behind the News tab you'll find the weekly President's Column, Press Releases and other industry news. In addition, we communicate with members and consumers in a variety of formats, including a weekly member e-newsletter and social media. Members also have access to the state and national Association's newsletters and online resources. Collectively, these communication vehicles enable members and consumers to remain current with industry trends and happenings.
Community Partnerships: GCAR currently partners with Habitat for Humanity and Hamilton County Snack Program to
CRS Data: All MLS Participants and Subscribers enjoy access to CRS Data, which provides property reports, comparables, tax data and maps.
Dues & Fees: Existing members pay annual membership dues to retain membership rights and privileges. Many of our members also subscribe to our commercial and/or residential Multiple Listing Service.
Education: We offer post-licensing education in online and classroom formats. Classes provide continuing education credits for licensees in Tennessee and Georgia. Many classes are open to non-members and consumers at a non-member rate.
File a Complaint: If you've not already reached out to the agent's managing broker, we encourage you to do so. We find that step often clears up miscommunications bewteen members. However, there may come a time when you need to file a formal complaint. Our grievance and professional standards process is a fair one for all parties and helps raise the level of professionalism in our industry.
Find a Member: Search for a fellow GCAR member by name or company. Also, search for Affiliate members by type of business.
Forms & Contracts: Membership has its privileges at the state, level, too, with access to an inventory of real estate forms and contracts provided by the Tennessee and Georgia Associations of REALTORS®.
GCAR logo files: Let consumers know you're a GCAR member. We encourage members to download and incorporate the GCAR logo into their marketing materials.
Keyboxes: GCAR has contracted with Supra to provide keyboxes to all residential MLS Participants. GCAR purchases the boxes and leases a certain number to each MLS Participant based on the number of active listings in Flexmls.
Leadership Academy: The objective of the GCAR Leadership Academy is to provide tools and a knowledge-based foundation to motivate and empower those who desire to serve in a local leadership position. Participants are selected from a pool of applicants, who have a letter of support from their managing broker.
Legal Hotline: This member service is provided by the Tennessee Association of REALTORS® and gives guidance to REALTORS® based on the law and the Code of Ethics. Contact the TAR Hotline at 800.899.5297 or hotline@tarnet.com
Market Statistics: Our market reports are compiled from data in the residential MLS and provide an overview of weekly, montly and annual activity. The full reports are only available to REALTORS® via thier MLS login (Catylist and Flexmls).
Multiple Listing Service: The Association owns and operates a Multiple Listing Service (MLS), which is an online inventory of property and homes for sale or lease in the Chattanooga area. REALTORS® and consumer can access property information 24 hours a day, seven days a week. Combined, our MLS has more than 5,000 listings at any given time. In addition to information about available properties, Appraisers contribute and have access to an Appraisal Database, which enables our members to provide the most accurate square footage data on local properties.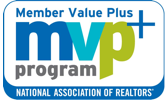 National Association Member Benefits: Membership has its privileges at the national level, too, including member rates and discounts on rental cars, insurance, industry publications, e-books, cars, technology and much more! Plus, NAR offers the MVP program. which allows memebrs to earn rewards by taking action.
REALTOR® Store: We maintain a retail store that carries items to enhance the real estate transaction, including yard signs, brochure holders, REALTOR® clothing and personal planners. Also, we carry non-real estate related items at a special member-only rate, such as tickets for AMC Theatres.
REALTORS® Property Resource (RPR): RPR is a benefit from the National Association of REALTORS and is available at no additional cost to REALTOR members. Once you create an account, RPR is easy accessible via Flexmls and Catylist.
State Association Member Benefits: By virture of local membership, members receive services from either the Tennessee Association of REALTORS® or the Georgia Association of REALTORS®.
Subscriptions: Each GCAR member automatically is subscribed to the weekly Hamilton County Herald and the monthly Edge magazine. This is the one time we provide a member's home address, for which the publishers are prohibited from using for any purpose other than distributing these printed publications.