Leadership Academy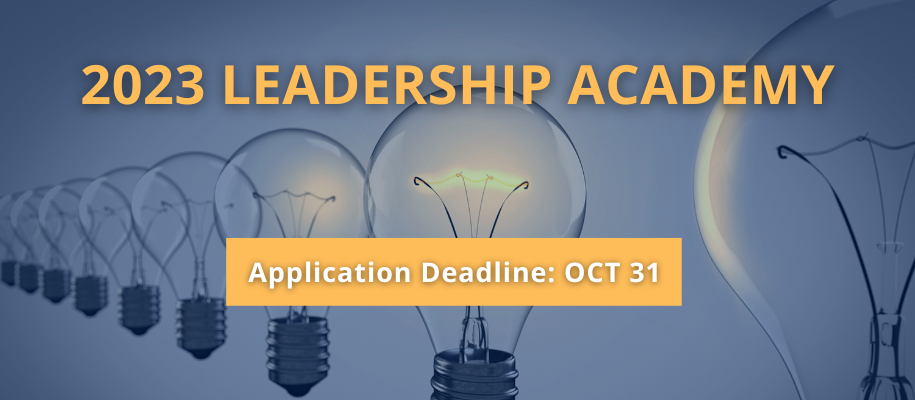 Click HERE to Download the Application - Due OCT 31
The Leadership Academy aims to provide tools and a knowledge-based foundation to motivate and empower REALTORS® for future leadership positions. Through a series of 3-4 hour sessions, electives, and team building activities, participants gain:
Knowledge-based foundation for personal leadership growth.
Enhanced professionalism and industry knowledge.
Greater awareness of all three levels of the Association (local, state, and national)
SELECTION PROCESS
Upon reviewing of all applications, the Leadership Development Committee will make a recommendation to Board of Directors, who makes the final determination regarding participants.
Qualifications
In reviewing applications, the Leadership Development Committee weighs and considers:
Broker Recommendation Letter (must accompany the application)
Minimum two (2) years as a REALTOR® member in good standing
Interest in serving in a volunteer leadership role
Availability of time to participate fully in the program
Potential for leadership demonstrated through involvement in community groups and the REALTOR® association
Class Size
To allow meaningful networking and learning, consideration is given to the overall make-up of the class to ensure a worthy and diverse group of participants. To maximize the experience for all participants, the class size will be limited to no more than fifteen (15) participants. When multiple applicants are affiliated with the same office, we will defer to the Managing Broker for input.
Tuition & Time Commitment
Those members selected to participate in the class will be required to pay a $175 tuition fee to offset the costs of classes, speakers, materials, and activities.
Curriculum
To be scheduled for the 1st & 2nd Quarter 2023 and includes:
6 sessions (3-4 hours each): Topics to include the DISC profile, the REALTOR® Party, REALTORS® in the Community, Getting to Know the Association, and Leadership Skills
TN REALTORS®' Day on the Hill: (Nashville, February 8, 2023)
2 Community/Civic Electives: i.e., Chamber, City Council, County Commission, Snack Packs, Habitat
Teambuilding Activity
NAR's Commitment to Excellence (C2EX) Certification
NAR's Fairhaven (online fair housing simulation)
Graduation Celebration