Supra Keyboxes & eKEYS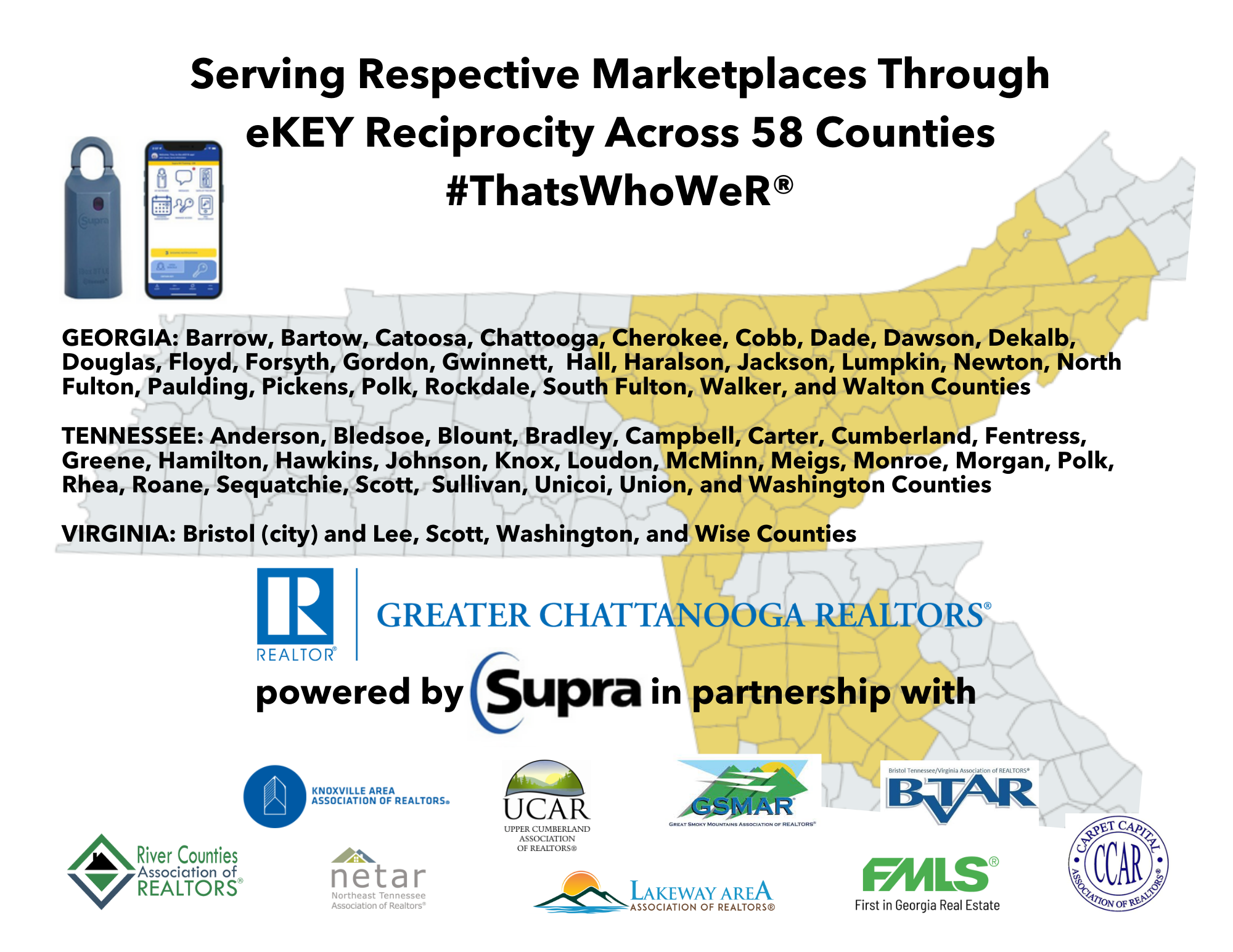 Greater Chattanooga REALTORS® partners with Supra for electronic keyboxes and digital key solutions. Supra provides the smartest tools so you can provide best-in-class service during the home buying and selling process. This Supra eKey FAQ is a great reference and reminder of all the eKEY features, including hot to:
Set up personal safety alert,
Use your Apple Watch to open keyboxes,
Set up Showing Notifications
View Showing Activity for your listings, and
Obtain an Update Code Psst! This feature us super useful on nights and weekends, when our Staff is unavailable to assist you.
Supra eKey Reciprocity
Greater Chattanooga REALTORS® partners with specific MLSs* to co-op eKeys, which is a privilege, not a right. Anyone accessing a keybox in another market should:
Follow the listing agent's/seller's showing instructions and local MLS Rules; and
Ensure you are licensed to conduct business in the state in which the property is located.
*Greater Chattanooga REALTORS® currently co-ops eKeys with the following Associations/MLSs, all of whose MLS Rules require permission to access a keybox. If you do not subscribe to those MLSs and the showing instructions therein, you should contact the listing agent to confirm any showing instructions and related appointments: Carpet Capital (GA), FMLS (GA), Great Smoky Mountains (TN), Knoxville (TN), Lakeway (TN), River Counties (TN), TN/VA Regional (TN), and Upper Cumberland (TN).
Single Access
Occasionally, you may get a showing request from an appraiser or real estate licensee who isn't an MLS user affiliated with one of the above-listed eKey reciprocity partners. Single Access allows listing agents on a case-by-case basis to invite the property owner, or out-of-area appraisers or real estate licensees to access a keybox at a specific date/time.
To ensure our eKey holders limit the use of Single Access to authorized persons, the MLS Rules include the following:
Section 18.12.a. Supra's Managed Access is available to any Participant or Subscriber Keyholder (i.e., listing agent) to provide access to the Keyholder's keybox, provided the person to whom access is granted is the property owner or:
i. Holds an active real estate or appraiser license in the state where the property is located; and
ii. Is not an MLS Participant or Subscriber in this MLS or any MLS with whom Greater Chattanooga REALTORS® has e-Key reciprocity.
When granting Managed Access, Keyholder shall enter in the Supra system the name and contact information of the real person to whom access is being granted. Failure to abide by this Section 18.12.a. shall result in a:
i. Five hundred dollars ($500) for the first offense:
ii. Seven hundred and fifty dollars ($750) for the second offense; and
iii. One thousand dollars ($1,000) for the third offense.
For any fourth or more violation, the offender shall appear before the MLS Committee for consideration of discipline to be imposed. Said discipline shall be limited to those outlined in Section 7 of the MLS Rules.
Register for Supra Managed Access Training – Offered Twice Monthly

How to Grant Single Access:
Open the eKey > My Keyboxes > Select the keybox for the property to which you wish to grant access
Select Grant Managed Access
Type in the cell number of the person to whom you wish to grant access (or choose from your contacts). Select access day and time.
Add any pertinent notes regarding the property and then press Send
Instructions for Out-Of-Area Licensees to Whom Single Access is Granted:
Click the link in the SMS text invitation to download and set up your eKEY.
This will take you directly to the Supra eKEY app on your phone's app store. Click to download and install.
Once the app is downloaded, return to your texts; click on the same link to register with eKEY.
Once you register, you'll receive a text with a link to an authorization code. Tap on the link and you'll be taken directly to a pre-populated authorization page for the eKEY.
Read and agree to the EULA (End User License Agreement) and Privacy notices.
To open the lockbox, select Obtain Key Enter the 4-digit PIN you selected during registration and push up on the bottom of the lockbox to turn it on.
You will then get a "Success!" message. Once you see that, push up again on the bottom of the lockbox to access the key(s) inside.