Data Share
Powered by Flexmls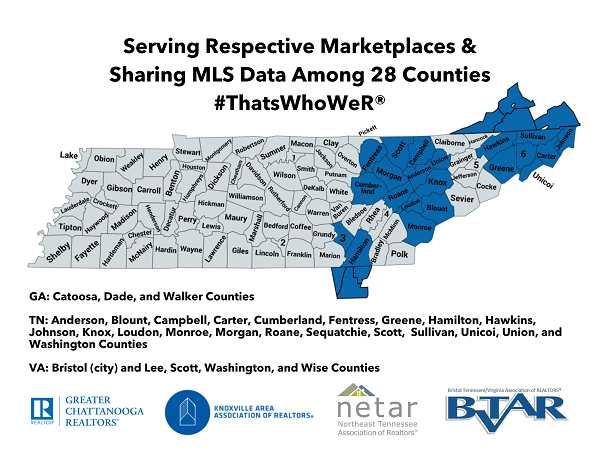 NOTE: This page will be updated in Spring 2023 when the data share with FMLS is live.
Through Flexmls, our MLS Participants and Subscribers data share with the Knoxville Area Association/MLS* and the TN/VA Regional MLS**, collectively representing more than 12,000 MLS users from more than 1,200 firms. This partnership:
• Allows our MLS Participants and Subscribers to view listings in these partner MLSs without the cost of subscribing to each MLS; and
• Better serves clients interested in the market.
Data Sharing:
• Provides ONLY the ability to view MLS data and listings; and
• Does NOT include the offer of cooperative compensation. You will negotiate cooperative compensation as you would when selling property not listed in the MLS to which you subscribe.
All MLS users are reminded that the respective MLS Rules & Policies continue to apply for each MLS to which you choose to subscribe.
Watch this 2-minute video tutorial and learn how to:
• Search either, both, or all three MLSs, and
• Change your default settings for data share. Your default settings are to search only in the Greater Chattanooga MLS. While you can change your settings to search in more than one MLS, we do not recommend doing so. Each MLS shares the same Flexmls back-end; however, the input fields are not 100% identical due to local market customizations. Thus, only the common fields will show in your search results when searching in more than one MLS.
Greater Chattanooga REALTORS®' MLS service area includes: Hamilton and Sequatchie counties in TN; and Catoosa, Dade and Walker counties in GA.
*The Knoxville Area Association/MLS's service area includes: City of Knoxville, and Anderson, Blount, Campbell, Cumberland, Fentress, Knox, Loudon, Monroe, Morgan, Roane, Scott, and Union counties in TN.
**The TN/VA Regional MLS is jointly owned by the Northeast TN and Bristol TN/VA Associations. Together, their service area includes Carter, Greene, Hawkins, Johnson, Sullivan, Unicoi, and Washington counties in TN and Lee, Scott, Washington, and Wise counties in VA, plus Bristol (city), VA.