Tue, Aug 8, 2017 11:30am – 1:00pm
Economic Update Luncheon
LOCATION
The Chattanoogan (1201 Broad Street)
DESCRIPTION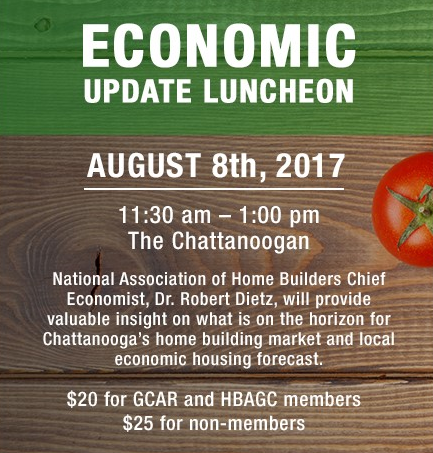 GCAR is pleased to co-host this annual luncheon with the Home Builders of Greater Chattanooga.
Event Sponsors: SunTrust Mortgage (Herb Pettit), Prime Lending and Times Free Press
This year's guest speaker is Dr. Robert Dietz, Chief Economist and Senior Vice President of Economics & Housing Policy for the National Association of Home Builders. Dietz will provide valuable insight on what is on the horizon for Chattanooga's home building market and local economic housing forecast.
COST
An RSVP was required by Aug. 1. We are unable to accommodate walk-ins/late registration.
$20 for members (GCAR and/or Home Builders Association of Greater Chattanooga (HBAGC)) - GCAR Members can use the reigstration link below. HBAGC Members can call 423.624.9992 or at http://hbagc.net/events/20170808/details/
$25 for non-members (Purchase tickes from GCAR by calling 423-698-8001 OR from HBAGC by calling 423-624.9992.
Register
Back to Calendar