Tue, Feb 7, 2023 11:00am – 12:00pm Wed, Feb 15, 2023 2:00pm – 3:00pm Tue, Mar 7, 2023 11:00am – 12:00pm Click to show all times Wed, Mar 15, 2023 2:00pm – 3:00pm Tue, Apr 4, 2023 11:00am – 12:00pm Wed, Apr 19, 2023 2:00pm – 3:00pm Tue, May 2, 2023 11:00am – 12:00pm Wed, May 17, 2023 2:00pm – 3:00pm Tue, Jun 6, 2023 11:00am – 12:00pm Wed, Jun 21, 2023 2:00pm – 3:00pm Thu, Jul 6, 2023 11:00am – 12:00pm Wed, Jul 19, 2023 2:00pm – 3:00pm Tue, Aug 1, 2023 11:00am – 12:00pm Wed, Aug 16, 2023 2:00pm – 3:00pm Tue, Sep 5, 2023 11:00am – 12:00pm Wed, Sep 6, 2023 2:00pm – 3:00pm Wed, Sep 13, 2023 2:00pm – 3:00pm Thu, Sep 14, 2023 11:00am – 12:00pm Tue, Sep 19, 2023 11:00am – 12:00pm Wed, Sep 20, 2023 2:00pm – 3:00pm Wed, Sep 27, 2023 2:00pm – 3:00pm Thu, Sep 28, 2023 11:00am – 12:00pm Tue, Oct 3, 2023 11:00am – 12:00pm Wed, Oct 18, 2023 2:00pm – 3:00pm Tue, Nov 7, 2023 11:00am – 12:00pm Wed, Nov 15, 2023 2:00pm – 3:00pm Tue, Dec 5, 2023 11:00am – 12:00pm Wed, Dec 20, 2023 2:00pm – 3:00pm
Forewarn Training
Hosted by Forewarn
LOCATION
Your own location/device!
DESCRIPTION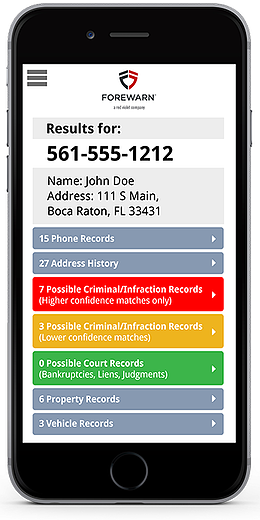 A $240 value and complimentary for our REALTOR® members, FOREWARN was built around agent safety and identity verification, it's really the whole point of the platform.
However, FOREWARN is also a multi-dimensional tool that can be leveraged in other areas of your business to help you be a better REALTOR®.

In addition to Q&A, these webinars help REALTORS® gain a much better understanding of the platform along with going over some "Pro-Tips" to help get the gears turning in your head on other ways to leverage FOREWARN in your business.
Not yet subscribed to FOREWARN? Our Staff can help. Call us at 423.698.8001 to confirm we have your correct email and cell number uploaded to the FOREWARN platform.
Register
Back to Calendar