All Day Event
TN REALTOR® Day on the Hill
LOCATION
State Capitol & Cordell Hull Office Building (Nashville, TN)
DESCRIPTION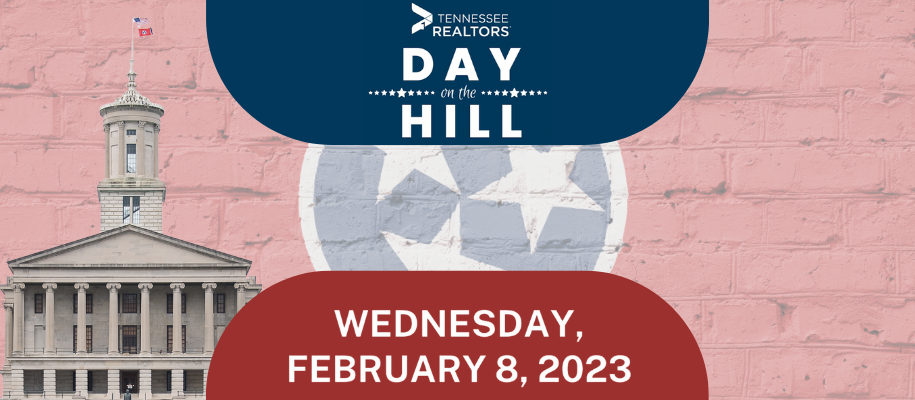 Thanks to everyone who helped make last year's Tennessee REALTOR® Day on the Hill a success. It was a wonderful opportunity for you to impact legislation affecting the real estate industry by meeting with our legislators and letting them know that property rights matter.
We're doing it again on March 5, 2019! Ride with us on the chartered bus to Nashville to help prove Greater Chattanooga REALTORS® are dedicated to the REALTOR® Party and demand to be heard by our legislators!
Get CE Credit on the bus!
That's right, our very own Susan Barnette will be teaching TAR Forms Changes and TREC Advertising Rules from the comfort of the bus. How's that for making the time pass quickly?!
Win prizes for riding the bus!
As if riding the bus* with your fellow REALTORS® to Nashville to meet with our legislators is not incentive enough, we've added a few more fun components this year: All REALTORS® who ride the bus will have their name entered into a prize drawing.
Managing Brokers - We need you!
Set an example about the importance of participating in Tennessee REALTOR® Day on the Hill. Each Managing Broker who rides the bus will be entered into the Managing Broker Drawing. If you bring another Managing Broker with you, we will enter your name a second time. The more Managing Brokers you bring, the more entries you get and a bigger chance to win!*
Schedule of Events
6:30am – Depart from Greater Chattanooga REALTORS®
9am -2pm – Meet with Legislators
Lunch (complimentary for rising the bus with us) - In between the Meetings wth Legislators
5:30pm – Arrive at Greater Chattanooga REALTORS®
Seating is limited. Register TODAY. Here's how:
Send an email to Christy Auld to reserve your seat. If you are bringing others with your (agents or Managing Brokers), be sure to RSVP for them, too, to ensure everyone gets a seat on the bus.
Register online with Tennessee REALTORS®. NOTE: We must check-in with Tennessee REALTORS® upon arriving in Nashville, so you need to be on their list, too. When registering with Tennessee REALTORS®, select the "no lunch" option, as lunch will be provided by Greater Chattanooga REALTORS® for bus riders.
If you have a problem registering or have questions, contact Christy Auld.
* You must be present on the bus to be both entered in the drawing and win!
Back to Calendar