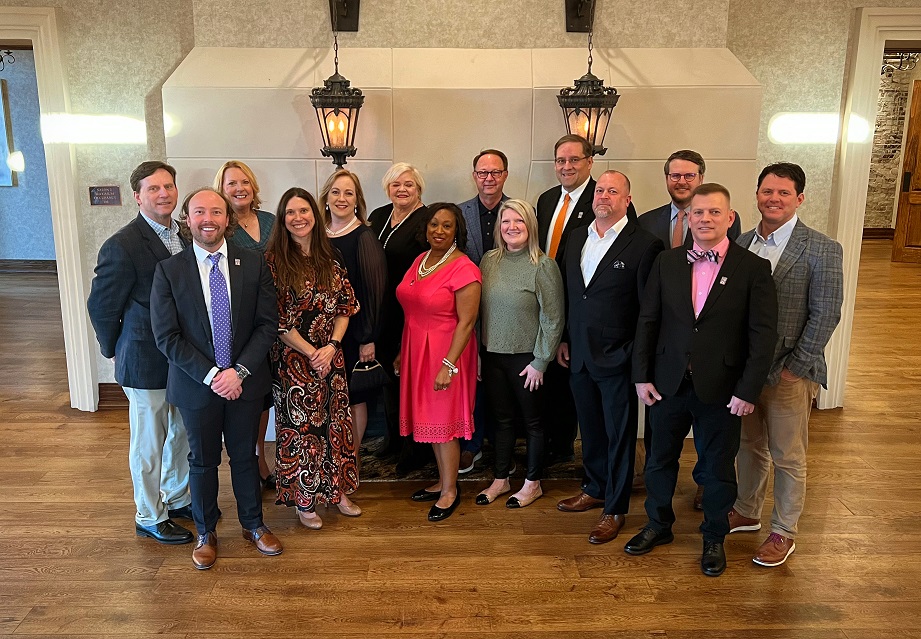 Greater Chattanooga REALTORS® joined together January 19, 2023, to celebrate 2022 accomplishments and install the 2023 Officers and Directors
· President Steven Sharpe
· President-Elect Kadi Brown
· Secretary-Treasurer Bev Boss
· MLS Chair Jeff Nixon
· Immediate Past President Derek English
· Directors Connie Brewer, Jill Christy, Brian Erwin, Robert Fisher, Holly Harwell, Ryan May, Rolanda Daniel, Mike Purcell, and James Streeter
2022 President Derek English gave highlights from 2022, including:
· Supporting Wreaths Across Chattanooga ($10,000), REALTORS® Relief Foundation ($10,000), and the Snack Packs Food Ministry ($36,000+)
· Awarding five, $2000 Community Scholarships to rising college freshmen
· Supporting the Realtor Party by participating in the state and national Hill Visits
· Surpassing the RPAC goals with 987 investors, 27 of which are Major Investors ($1,000+) invest more than $92,000
· Offering nearly 500 CE hours to Tennessee and Georgia licensees
· Providing the Forewarn Safety App to nearly 900 members
· Launching MLS Data Shares with Knoxville, Tennessee Virginia Regional, and FMLS in Georgia
· Implementing the BrokerBay Showing Service
· Hosting a Membership Breakfast with Superintendent of Hamilton County Schools Dr. Justin Robertson, Family Movie Night at the Tivoli, Economic Update Luncheon, and the second annual Member Appreciation Week.
Upon being sworn in, 2023 President Steven Sharpe addressed the nearly 150 attendees:
I want to take a moment to acknowledge my family who is here with me tonight. You already saw my girls doing the pledge but my wife Lindsey and my parents are here as well. I am grateful for your support leading up to this evening.
I also want to acknowledge the Association staff. They all do a tremendous amount of work behind the scenes to help make each of us look good when we are out there doing the business. Every single person at the Association wants us to be successful and thrive and their role is to help us achieve that. So, thank you to them.
And the reason we are all here this evening is you, the Realtor community. Thank you for your trust and support in electing myself and this Board of Directors to help guide the Association in 2023. Our commitment to you is to listen, to be present, and to engage to make sure that the interests of our community are heard.
Back in December, the Association went through a strategic planning process for the next 3 years. One of the primary objectives that we established was to work hard to make sure that Realtors had a seat at the table when it comes to the decision making process locally. This means that Realtor voices are heard at the City Council, the mayor's office, the regional planning commission, and the local chamber of commerce.
I am a Chattanooga native, born and raised here. Many things have changed over the last 40+ years. We have something special that a lot of people naturally gravitate towards. We have a great environment for individuals looking to relocate as well as businesses looking for a new base of operations or expansion opportunities.
We want each of you to be involved in those conversations. That is what it means to have a seat at the table. The Board of Directors and myself want to be present and available to make sure your voice is heard in these conversations. Let us know how we can help you with these issues.
Finally, to the Board of Directors, thank you for stepping up and volunteering your time for the Association and the Realtor body. We are gathered here tonight to celebrate you and the things that you are going to do this year.
You are a leader. You have stepped up in front of everyone, put yourself out there, and were chosen to lead. All I ask of you is that you show up.
Just show up. Be present, much like our drive to have a seat at the table with our local officials, you have a literal seat at the table for the leadership of our Association. We will make decisions, write policies, and execute plans that will shape our industry for years to come. Show up.
Each of us are blessed with a variety of skills and talents. When you don't show up with all of your gifts, your talents, your ideas, and your efforts, the world is a worse place. So, show up.
For images of the event, visit our Facebook album.