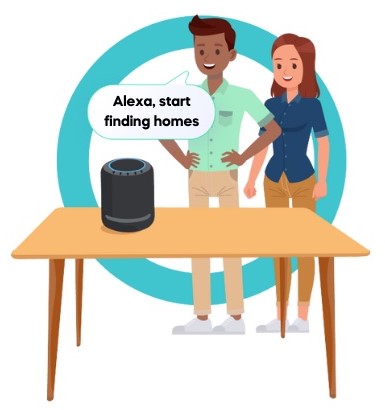 We are pleased to launch Finding Homes which lets you search Greater Chattanooga REALTORS® listings* by voice prompts. In addition to another tool for agents on the go, Finding Homes creates a more accessible real estate search option for those who are blind or visually impaired.
How to Access Listing by Voice in Greater Chattanooga
1. Use an Alexa device OR download the Alexa App for free from the Apple App Store or on Google Play. NOTE: If using the Alexa app, make sure the app is open on your phone.
2. Start by saying, "Alexa, start Finding Homes."
3. Finding Homes will suggest search options, or you can ask about specific property features. Alexa will also send a complete list of available questions to your Alexa app so you know what you can ask. Alternatively, you can also ask for the complete list to be said aloud by the device.
With Alexa, you can use search parameters such as address, price range, or the number of bedrooms and bathrooms. Finding Homes will sort and read you details of homes for sale that meet your criteria. Click here for a list of all voice commands for Finding Homes.
Accessibility and equal access to the listing data is crucial to everyone in our industry, so having an ADA-compliant voice search capability is a solid addition to our residential MLS technology offerings.