Mon, Nov 4, 2019 9:00am – 5:30pm
Education Blitz
LOCATION
Greater Chattanooga REALTORS®
DESCRIPTION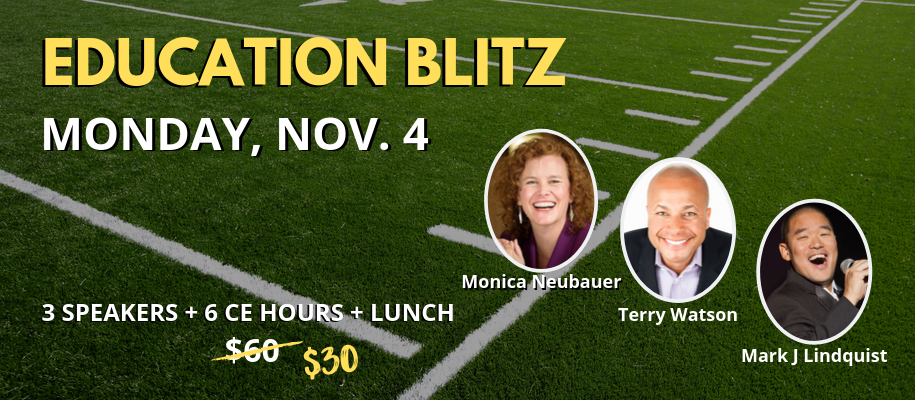 DOWN. SET. HUT.
Have you been thrown a few flags lately? Maybe you have fumbled a time or two? Need a Hail Mary?
Or maybe you are steadily gaining yards headed toward the end zone, not an opponent in sight!
Either way, we have just what you need.
We will kick-off the first quarter with the most requested and most booked real estate keynote speaker on the planet, Terry Watson! Terry will share with you his wealth of knowledge, tips and tricks on providing top notch customer service.
Next up, we will take you to the concession stand for lunch and the opportunity to network with other members.
During half-time, you will be astounded as Mark Lindquist walks you through his awe-inspiring journey. Mark has had the opportunity to speak for the largest companies in America (McDonalds, Walmart, Starbucks, IBM, NFL, NBA, MLB, NCAA), even performing for the President of the United States of America. Mark will leave you with a new vision for the future that will propel you into an exciting journey toward a passion-filled life in all areas, at work and at home.
Fourth quarter, National Association of Realtors' Center for Realtor Development's Podcast Host Monica Neubauer will join in the huddle. Monica will empower you with her step by step play that will take you from contract to close with your seller. Ensuring your goals are met and the seller's expectations are exceeded.
All course material will be provided during the Education Blitz.
Please contact Jessica Snyder with any food allergies or requirements at Jessica@gcar.net.
INSTRUCTOR
Terry Watson, Mark Lindquist and Monica Neubauer
COST
Tickets Half Price for Members: $30.00 / Non-Members: $60.00
Register
Back to Calendar