All Day Event
TN REALTORS® DAY ON THE HILL
Bus Ride to Nashville is co-hosted by Greater Chattanooga REALTORS® & River Counties Association of REALTORS®
LOCATION
State Capitol & Cordell Hull Office Building (Nashville, TN)
DESCRIPTION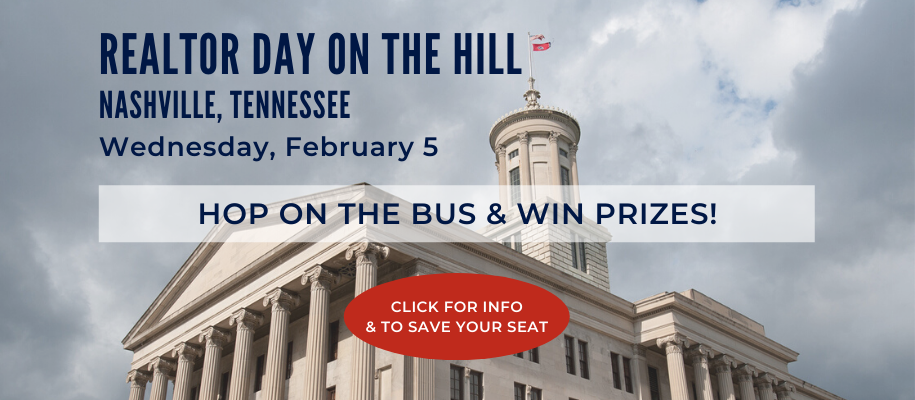 REALTOR® Day on the Hill is a wonderful opportunity for REALTORS® to impact legislation affecting the real estate industry. Join us on FEB. 5 to meet with legislators and let them know that property rights matter.
This year, REALTOR® Day on the Hill coincides with the 2020 Tennessee Excel Summit (TNEX), and many of you will already be in Nashville. For those of you not attending TNEX, we have you covered with FREE transportation, FREE lunch and PRIZES!
Here's the scoop on riding the bus to Nashville:
6:30am – Depart from Greater Chattanooga REALTORS®.
9am to Noon – Meet with Legislators
Lunch (complimentary)
4:00pm – Arrive at Greater Chattanooga REALTORS®
All REALTORS® who ride the bus will be entered in a drawing for prizes!
Limited seating. Contact Christy Auld no later than JAN 31 to reserve your seat. If you are bringing other agents/brokers, please RSVP for them, too, to ensure everyone gets a seat.
NOTE to those who are attending TNEX and not riding the bus, when registering online for TNEX, be sure to select that you will be attending "Day on the Hill." You must be registered with Tennessee REALTORS® to attend Day on the Hill.
Thanks to these sponsors
Maryann Azambuja of Choice Home Warranty - Lunch Sponsorship
Jill McLean of Synovus Mortgage - Bag Sponsorship
Bruce Seigel of Caliber Home Loans - Snacks/Drinks Sponsorship
Back to Calendar